For a beauty guru, one of the worst feelings is opening your makeup bag to find that your favorite eyeshadow is smashed into bits. I've had this happen to more blushes, bronzers, and palettes than I'd like to admit. In the past, I would simply shed a tear and throw away my damaged goods. But just the other day, Team LC got together and experimented with how to fix our favorite broken beauty products…and I'm very pleased to say that we found a solution!
If you've ever cracked your favorite eyeshadow, instead of going out and replacing it, try this trusty trick instead…
Here's what you will need:

rubbing alcohol
empty spray bottle
coin the size of your eyeshadow
tissue or piece of fabric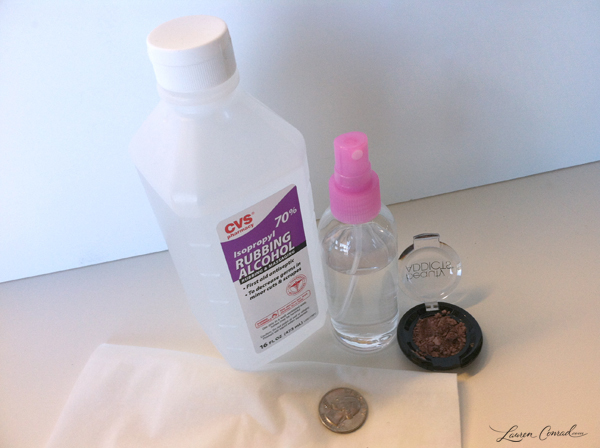 Instructions:

First, if your eyeshadow cracked into larger pieces, use a pencil or pen to smash it up into tiny pieces, so it becomes a powder. This will eventually make it easier to put back together.
Fill your empty spray bottle with the rubbing alcohol, then spray your eyeshadow with the alcohol. If you're repairing a shadow that is part of a palette, make sure to cover the rest of your colors so that they don't get sprayed. You want the powder to be soaked with rubbing alcohol, so go give it a good dose.
Take a coin that is the right size for your eyeshadow and wrap a tissue around it.
Press the tissue-wrapped coin into the eyeshadow as hard as you can to pack the powder back together. Do this for about 30 seconds.
Gently lift up the coin and let it dry. Clean around the edges to remove any excess shadow.
And…voila! Your eyeshadow should be good as new. This can work for a blush or bronzer too, as long as you use something in place of the coin that is the right size for your makeup.
Will you give this trick a try?
Allison
Team LC
Source : Lauren Conrad